Meerkat obsessively tries to integrate itself into the tooling provided by Statamic itself. Because of this, Meerkat allows you to configure the comment form, metrics reporting and automated emailing by using Statamic's form configuration features. To access these features for Meerkat, navigate to the "Forms" section of the Control Panel under the "Tools" navigation item. The Forms dashboard will appear:

Here you will see all of your Statamic forms that have configured as well as Meerkat's "Comment Submissions" form. Activating this option will have the same effect as clicking the "Comments" menu item under "Content".
Once the comment manager has loaded, you will find a "Configure" button in the top-right corner of the page. This will load the "Editing Formset" page: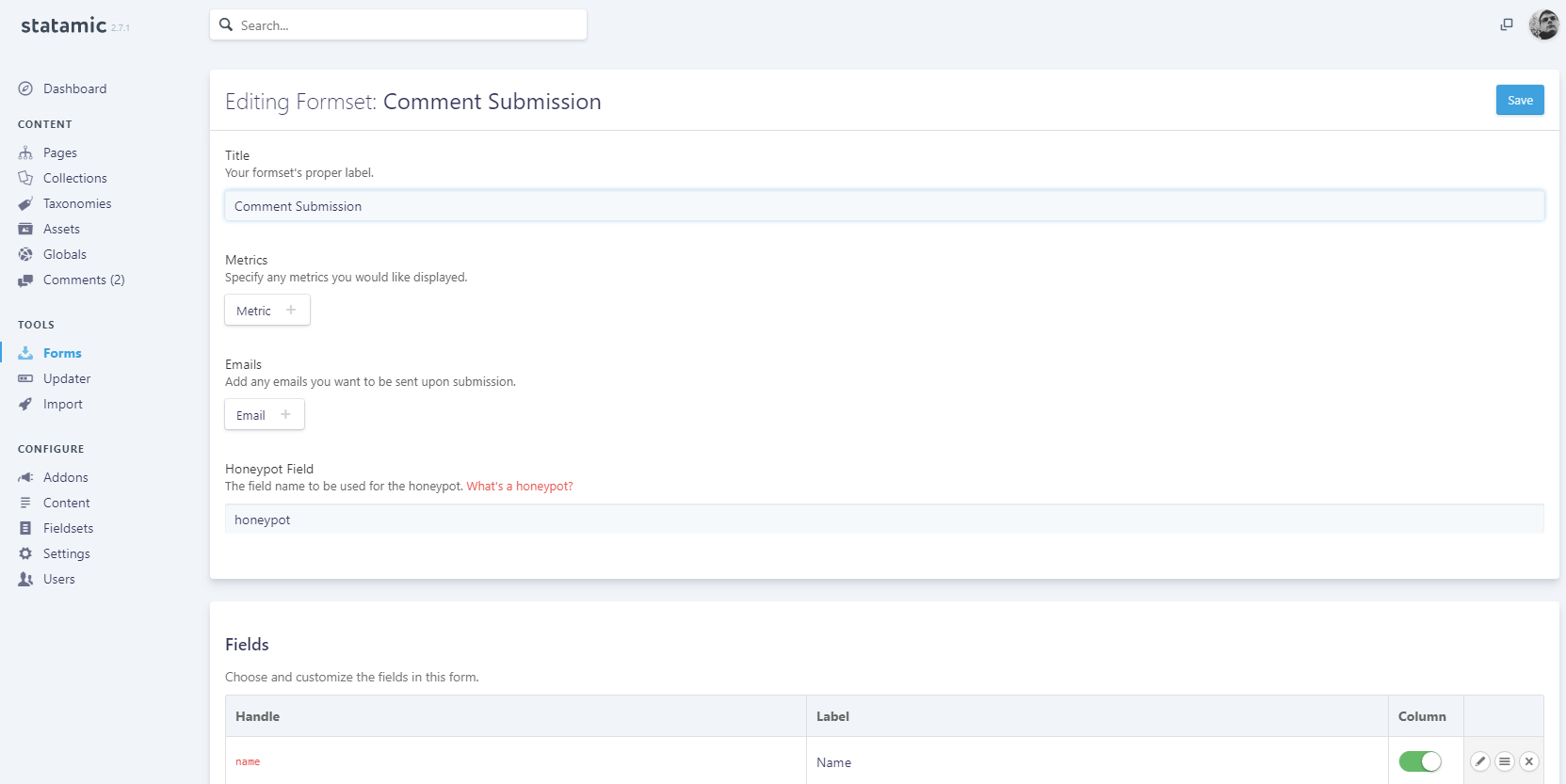 Using this page, you can configure automated e-mails, form metrics as well as add additional fields to your comment form. That's incredibly exciting, and gives you a lot of flexibility in how you can use Meerkat. However, as will all good things, there are some caveats.
Required Form Fields
Meerkat requires that the following form fields be defined on the Meerkat formset (you do not have to display them necessarily, but they should be there):
| Field Name | Purpose |
| --- | --- |
| name | To collect the name of the comment author. |
| comment | The comment's actual content. |
| email | The email address of the comment author. |
Other than having these required form fields, there are very few restrictions with what you are able to accomplish by using Meerkat and Statamic's form features.
Statamic Features
Since Meerkat's form features are integrated heavily with Statamic, you can read about these features here. Almost everything on that page can be transferred to Meerkat's forms except for displaying submission data and exporting your data.
To learn more about displaying Meerkat's form data, see the section Displaying Responses.